In a world first, an Australian doctor has completed the first human clinical trial using engineered stem cells to treat an immune disease.
The trial used induced pluripotent stem cells to treat 15 patients in Australia and the UK with an immune disorder called graft versus host disease.
The disease can occur after a bone marrow transplant and, in some cases, can be deadly.
Royal Prince Alfred Hospital head of Cell and Molecular Therapies Professor John Rasko AO said graft versus host patients could develop severe gut symptoms, or in their skin or lungs.
« It's an immune attack and the cells that I'm now talking about, derived from these reprogrammed cells, are capable of suppressing that kind of an immune response, » he said.
Professor Rasko said the early phase clinical study with a small number of patients, published in Nature Medicine, showed promise.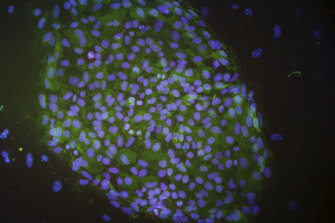 « None of these patients had any complications that were of any significance, » he said.
While embryonic stem cells come with ethical concerns for some members of the community, and adult stem cells come from different donors which can lead to varying results or problems, Professor Rasko said these reprogrammed cells can be grown in an « unlimited supply ».
« We were able to grow these cells indefinitely in an unlimited amount, and produce them safely and then check them and make sure they're safe, » he said. « There's no other technology that can do this. »
Rebecca Rudy was diagnosed with leukemia in 2018 and as part of her treatment at St Vincent's Hospital, with haematologist Professor Sam Milliken, received a stem cell transplant last year. Two months later, she developed graft versus host disease.